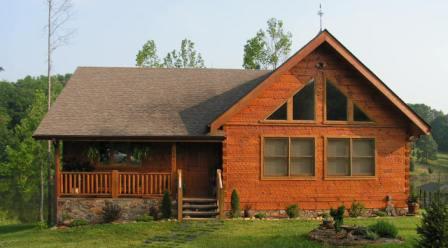 We sell custom log home packages exclusively from Log Homes of America, Inc., a family owned log
home provider, headquartered in Jefferson, NC with their own milling facility where they produce
kiln dried Eastern white pine log packages and timber frame products, as well as special orders if you
prefer something a little more exotic. Go to www.loghomesofamerica.com and see profiles, visit the
photo gallery, see floor plans, and to find out more about our products and services.

At Roanoke River Valley Log Homes we are dedicated to providing the best product and service in the industry.

We promise to do what we say we'll do. Discover the difference! Call to see our log home at Smith Mountain Lake!

540-420-0338, 540-420-8326 or www.ilovelogs.com
Independent Dealer for Log Homes of America, Inc.

If you are thinking about building a log home you probably have a lot of questions. You want answers; you want someone to help you understand how to make good decisions, and especially, someone who will be truthful with you and help you avoid unpleasant and/or costly surprise.
We are ready to help you design and build a custom log home for the same price as our stock plans. You do not have to settle for ordinary when your log home dream is extraordinary. Log Homes of America has an architect experienced in log home design and construction ready to go to work on your plan.
We have builders who can produce a Turn-key home, or Dry-in the home if you are more of a do-it-yourselfer, or have someone you want to do the finish work. We will even provide technical assistance if you want to build your home yourself or if you have your own builder.
Come visit us at Smith Mountain Lake and tell us about the log home of your dreams. You'll be glad you did.
Independent Dealer for Log Homes of America, Inc.
We are Loggies... No other home will do. Nothing can compare to the natural beauty of a log home. Do you have dreams of owning a log home? If so, you may be a loggie too. Let's get together and find out. Give us a call to visit our log home at Smith Mountain Lake in Union Hall, Virginia.


Contact us today and find out how Roanoke River Valley Log Homes can help you own one. 540-420-0338, 450-420-8326 or ilovelogs@yahoo.com.




From US 29 at Gretna, VA take VA 40 (Old Franklin Turnpike) west for 18.5 miles to Old Salem School Road (662). Turn right. Go 2 miles to Sandpiper Bay. Turn left onto Egret Drive. Last house on the right

From US 220 at Rocky Mount, VA take VA 40 (Old Franklin Turnpike) east for 11.5 miles to Old Salem School Road (662). Turn left. Go 2 miles to Sandpiper Bay. Turn left onto Egret Drive. Last house on the right

From Hwy 122 at Westlake , turn on Scruggs Road and go .8 miles to Brooks Mill Rd / VA 834. Continue to follow Brooks Mill Road for 9.6 miles. Turn left onto Dove. At the end of Dove Road, turn left onto Old Salem School Road , go .3 miles and turn left at Egret Drive. Last house on the right